Trade shows are great for growing companies to meet potential clients, but when their booth is surrounded by dozens of competitors, it can be difficult to be seen.
Advanced Extruder Technologies (AE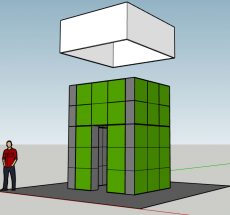 T) custom makes very large pieces of equipment for a range of plastic extruding applications. CEO Fred Jalili had seen our presentation of how bright, crisp, and adaptable our SEG backlit pop up displays were. Intrigued, he wanted to see if the cost-effective displays could do more. He had a 20×20 island booth at the upcoming NPE 2018 plastics show in Orlando. Island booths come without the height restrictions of smaller booth spaces. So he wanted a design that would tower over their competitors' booths and, using the power of backlits, attract attention to large images of their product.
To help bring Fred's vision to life, we developed a 3D rendering of a 10ft W X 7.5ft D X 12.5ft H backlit tower structure. It was actually comprised of nine separate modular backlit pop up displays. Suspended from the ceiling above would be a 10ft x 10ft x 4ft square hanging fabric graphic. Together they would make a high visibility statement everyone at the show would be sure to see.
Next, since this was a novel use of this hardware, we built a proof of concept with the SEG frames. The display was structurally sound and looked great. AET was thrilled and gave us the green light to proceed. We pulled the specifications for the graphics, turned them over to Catherine Walker at Head Productions, AET's marketing/design firm, and went to work on creating this unique structure.
Here are some details describing what we put together.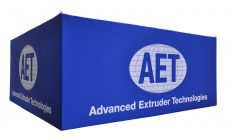 Our pop up system has special braces designed specifically to combine and stack the frames. Using them, we attached three 7.5ft x 7.5ft displays to form the three walls of the base. Two more 2.5ft x 7.5ft displays were appended to the ends of the walls leaving a 2ft wide gap between them to form a doorway and the 4th wall of the tower's base. The opening allows access to the lighting equipment from inside the structure and would provide case storage, another saving, during the show.  A 24" retractable banner stand was used to cover the doorway during show time.
The second tier of the tower was constructed by laying four 5ft x 7.5ft displays horizontally and attaching them to the top of the base, again, with the special connectors.
Then each display was outfitted with its own set of LED ladder lights and skinned with an SEG graphic. This ladder light system is an essential engineering element that makes the system highly versatile. Unlike edge lit systems, this quad by quad modular lighting provides consistent even lighting no matter how many get quads get hooked together. Opaque backers attach to the backside of the frames to control light spillage and maintain the maximum brightness of the graphics.
Here's the reason this modular development is so important.
We sell our backlit pop ups in four basic configurations: 2.5ft x 7.5ft, 5ft x 7.5ft, 7.5ft x 7.5ft, and 10ft x 7.5ft. It is obvious they are useful as stand-alone backlit displays. What isn't obvious are the ways they can be used, backlit or frontlit, to create innovative low-cost modular designs. As important though, is that the same hardware pieces can be reconfigured as needs and booth spaces change. Furthermore, their tool-less set up makes them incredibly easy to assemble, saving even more money each time they are used and transported in simple blow molded cases.
In the end, AET walked away with much more than a backlit tower. The graphic designs Head Productions did allow each of the backlit pop ups to be used as independent displays. Moreover, they can be reconfigured to work together in a variety of other structures should AET decide to use a different layout at future shows. And don't overlook the obvious, Benchmark can also print replacement graphics anytime AET's product line changes or expands.
This custom backlit tower is just another example of the cost-effective solutions Benchmark's team can devise to meet clients' needs and stretch their budgets. If you have any questions about our products or capabilities, please give us a call at (847) 290-0002.
See what Benchmark Imaging & Display can do for your image!
Featured
Newest
Recent Projects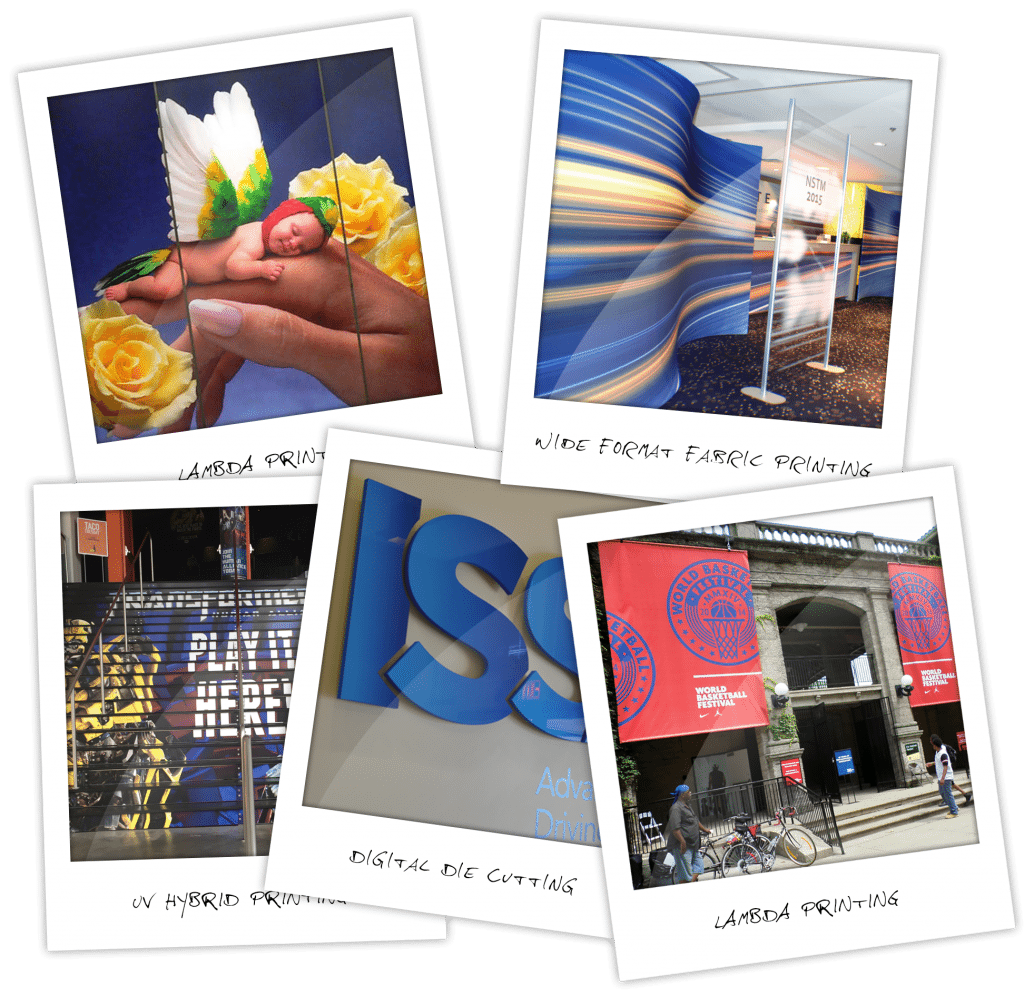 We went to another company to create two banner displays.  We only used them once before they fell apart.  Needing the displays for an event in less than 3 business days, we received outstanding service right from the start.  Their staff took the time to explain different options as well as show us examples of those options.  Not only were they extremely helpful, providing regular updates via email and phone, Benchmark got the job done on time.  Even with the rush, Benchmark's pricing is very reasonable and we could not be more impressed with the quality of their work and amazing customer service.  We were very happy with their efforts and we will definitely go back in the future.