Our team here at Benchmark Imaging & Display had the privilege of being chosen to help refresh the core exhibit at The National Hellenic Museum, Greek Story in America. The exhibit showcases the unique stories and experiences that helped to shape the lives of Greek Americans in the United States. It was a great job on a tight budget.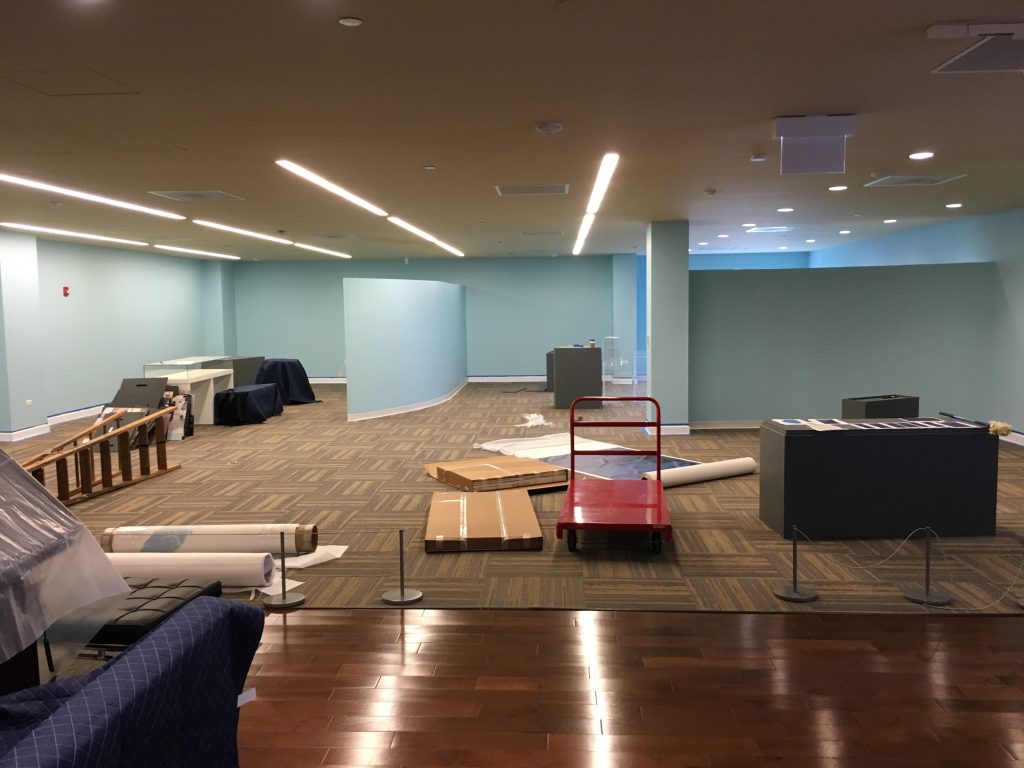 With newly laid carpet and a fresh coat of paint, we went to work with designer Karen Backe to fill the exhibit with dozens of graphic displays, each depicting personal stories that together represent the immigration experiences of Greek Americans.
Greek Story in America utilizes lightweight hanging graphics, hung from the ceiling by stainless steel hanging wire. Sintra board graphic displays were blocked and cleated along the walls to help give the exhibit dimension. Decorative cut vinyl wall graphics run along the base of the walls, livening up the space and acknowledging the overseas journeys Greek immigrants made. We also provided self-adhesive vinyl lettering and  custom printed vinyl wall coverings for larger mural images.
One of the more impressive pieces of work we did was the huge map of the world. It utilizes 54″ wide custom printed self-adhesive vinyl.  In order to create a composition this large we used our i-Cut digital die cutting to match cut separate pieces that could be precisely recombined onsite . Less obvious is that our team was able to precisely match the wall color to hide the edges of the vinyl, which can be seen on the map's tiny islands and peninsulas.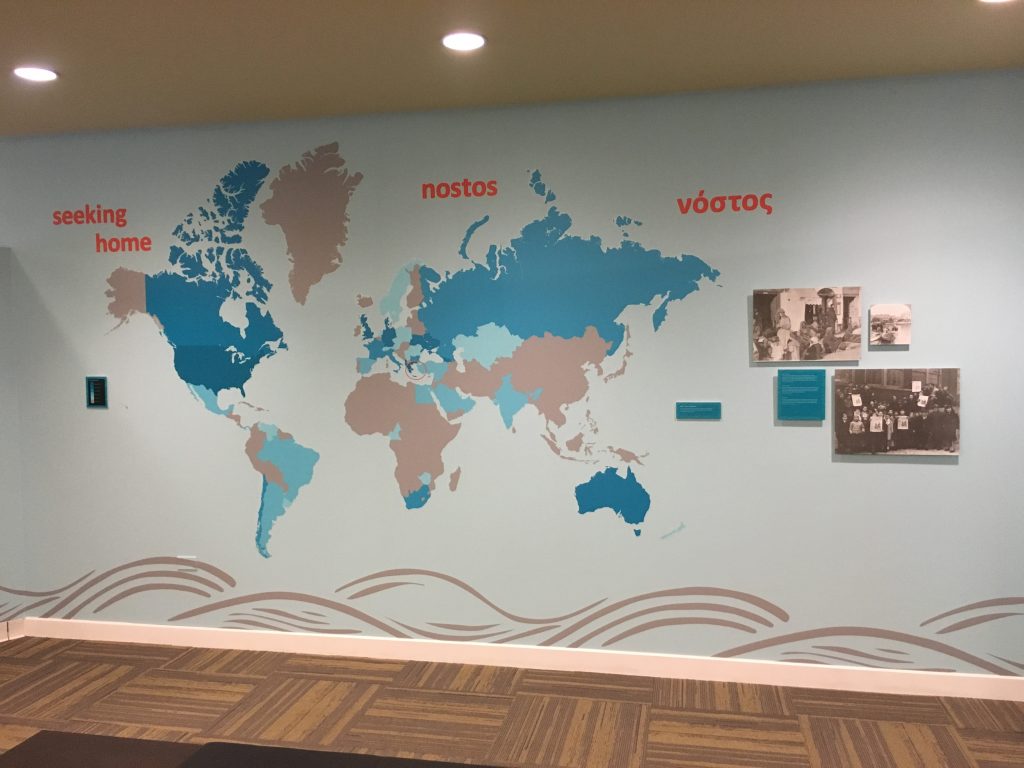 The exhibit's lighting is the result of a number of different types of light fixtures projecting different colors of light at different angles and intensities. This additional challenge put our color management skills to further test as we had to ensure a uniform sense of color across all of our graphics in the exhibit.
Throughout the process of graphic production, navigating the complexities of color and lighting, and managing the onsite installation, the job had to go off without a hitch in order for it to remain within the constraints of its budget. Our accomplisment of that is an example of high-quality project management providing premium product.
Contacting Benchmark Imaging & Display was the one call the National Hellenic Museum and their designer had to make to have this project come to life. You owe it to yourself to get in touch if you have a similar project on your to-do-list.
Next time you're in Greek Town stop in and visit the museum. It's a great way to acquire an appreciation of one of the many ethnic heritages that make Chicago such a great city.
National Hellenic Museum, 333 S Halsted, Chicago
Recent Projects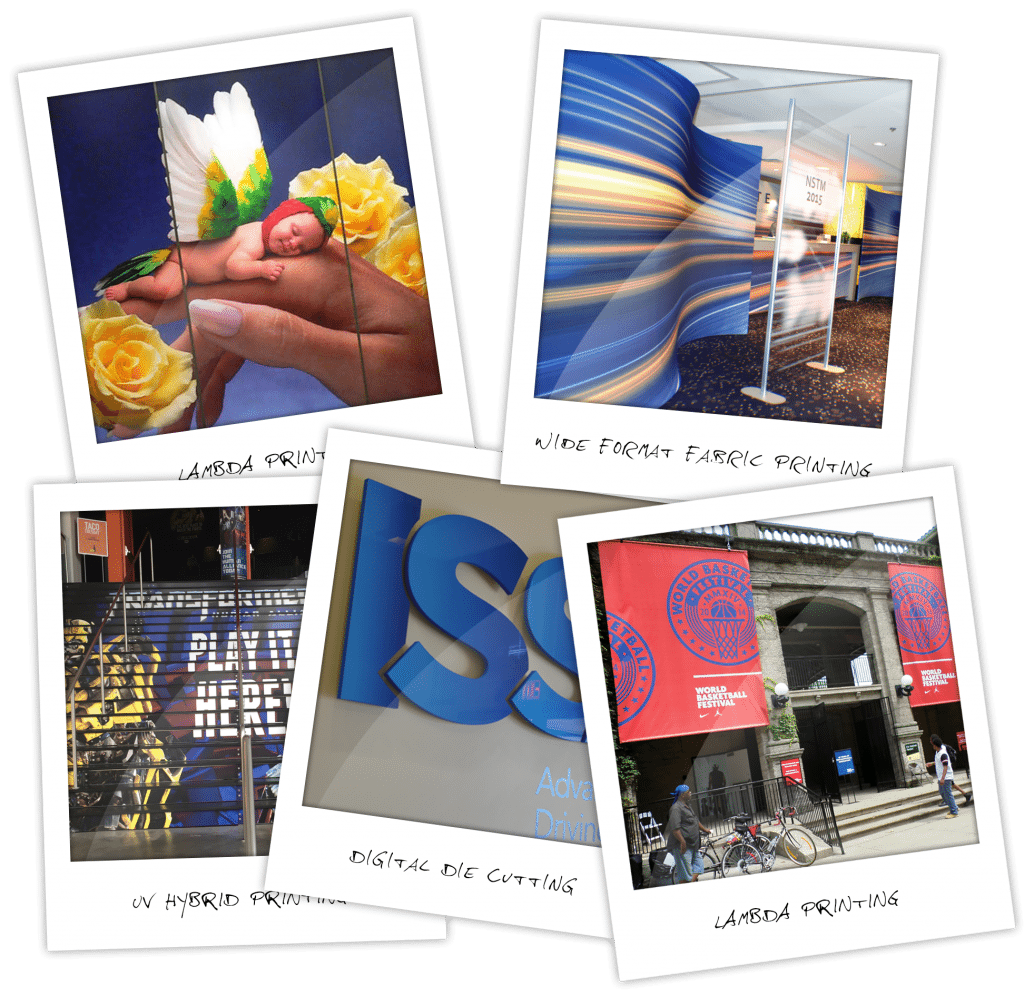 Best Seller
We went to another company to create two banner displays.  We only used them once before they fell apart.  Needing the displays for an event in less than 3 business days, we received outstanding service right from the start.  Their staff took the time to explain different options as well as show us examples of those options.  Not only were they extremely helpful, providing regular updates via email and phone, Benchmark got the job done on time.  Even with the rush, Benchmark's pricing is very reasonable and we could not be more impressed with the quality of their work and amazing customer service.  We were very happy with their efforts and we will definitely go back in the future.